Rental: Canyoning equipment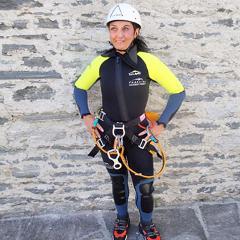 Duration : 1 Days
Location: Cresciano, Ticino
"Professional gear for a good price"
Our canyoning equipment is available for hire per day per piece

Included:
5-10/Adidas Canyoning shoes
Seland/Artistic Neoprene socks
Seland/Artistic 2-pieces neoprene wetsuit
Petzl/Camp helmet
Seland/Petzl harness with Petzl security lines and Mammut/Petzl karabiners
Petzl Huit (abseil device) and Mammut/Petzl karabiner
Gloves (optional)
Important:

Before the tour there will be a compulsory briefing on the right use of the equipment.
More information:
* Prices are calculated per day rental
* Canyoning should never be attempted without a buddy or without the proper knowledge!
* Adreventura can't be held responsible for the abuse or use of the rented equipment
* Rental equipment should be returned before 18:00 of the rental day

Enjoy your time and thank you for choosing Adreventura!